Welcome to the revolution in automated food and beverage refreshment service. Grab-and-go grocery shopping meets self service checkout technology.
MICRO MARKETS BY AUTOMATED FOOD AND BEVERAGE
A Micro-Market can provide your business, and your staff with fresh, handmade, and healthful food and beverage choices that simply don't fit or deliver properly in a vending machine. Micro-Markets have been proven to improve employee morale, health and wellness in the workplace.
Below, we discuss just a couple of the benefits that a Micro-Market can bring to your workplace food and beverage environment: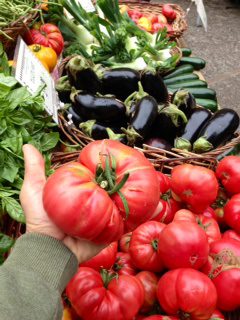 Fresh fruits and vegetables, both whole or individual serving size cups, can now be made available by way of the Micro-Market  (We actually hand pick as many of our fruits and vegetables as we can obtain via local farmers markets and farmers).
By working with vegetables that are local and in-season, we can provide you with a menu that is varied and delicious. 
Fresh sandwich bread that is baked within hours of preparing your Micro-Market sandwich delivery. Enjoy only real cheese, fresh produce, and quality meats.
Fresh and handmade hot south-of-the-border meals are made daily from family recipes. Experience deli style sandwiches, subs, wraps and pitas with ingredients you'll recognize and appreciate.
Interested in learning more about the benefits, technology, and menu programs available within a Micro market environment?
We welcome your call and look forward to finding a customized solution that is best for YOU and YOUR staff.
All the best in good health,
Automated Food and Beverage