Single Brew Plastic Cup Creates Chaos
More and more, when we talk with companies who want to offer coffee and hot tea service for the office, many of their staff members express the concern of recyclability when it comes to single-serve hot beverage systems. Recycling, becoming LEED certified, or just generally going green in the workplace has become an important mission of companies large and small. Let's look at Goodmans Interior Structures, a office and medical interiors company in Phoenix AZ, that recently obtained it's LEED-CI Certification by the U.S. Green Building Council. Stephanie Fanger, Workplace Strategist at Goodmans, took on the task of replacing their standard coffee Keurig® cup system with a greener coffee "pod" system serviced by Automated Food and Beverage, a vending and coffee service company in the southwest. She states, "There had been a rising concern that the products we were using weren't recyclable. We felt it was only appropriate to have a system and a office coffee service provider that was in-line with our LEED-CI Certification". The pod system was the ace in the hole that perfectly complimented their LEED-CI Certification, and it was instantly her first choice for a coffee solution.
Popular brands are taking steps to make at least part of their plastic coffee capsules easier to recycle. However, the lid, filter materials and coffee cannot go into the recycle bin. The concern is that even people who have the best intentions for the environment, likely won't take the steps necessary to deconstruct and recycle the plastic cup.
Once used and tossed in the trash, these little cups are filling landfills and floating in the ocean, and that has environmentalists' and recycling center employees brewing with concern. A recycling facility representative was recently quoted to say "There's so much single use material out there, that all this does is create more and more waste". Keurig®, for instance, has pledged that by 2020, all "K-type" cups used with their machines will be recyclable. But what can we do in the mean time to decrease the estimated 8.5 million "K-type" plastic cups created in 2013 alone from stacking up?
One thing coffee drinkers in the workplace can do to reduce their carbon footprint is to find a vendor who uses a "coffee pod" (pictured below) type system by BUNN® or SunCana® instead of a single-serve plastic cup system to brew a cup of coffee at the office.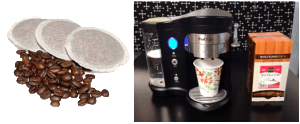 Once you have a pod type system in place, keep a container in the company refrigerator, to recover spent coffee pods so they may be taken home and composted or mixed in with house plant or garden soil. Coffee grounds may be brown, but they are actually considered "green". They are rich in nitrogen, up to 1.45% nitrogen on average. They also contain magnesium, calcium, potassium, and other trace minerals3. In short they are good for the soil and you will likely end up with greener plants as a result.
So, the next time you go for that plastic cup, remember there is an Eco-friendly alternative. Convert your current coffee service to a "pod" type brewer today. Contact Automated Food and Beverage at www.VendingArizona.com
Looking for a vending and coffee solution outside of Arizona? We'd be happy to direct you to any of our nationwide coffee colleagues who also use gourmet and Eco-friendly products. Go to our Contact Us page and send us a note. We're happy to help.
1. New York Times, Energy & Environment, April 2014. 2. Keurig Coffee K-Cups Collecting in Landfills FEB 28, 2012 08:13 AM ET // BY TIM WALL. 3. About.com Organic Gardening, How to Use Coffee Grounds in Your Garden.